Welcome to the new home for National Registry of Food Safety Professionals! This site has been completely redesigned to help you find the information you are looking for quicker and easier. Whether you are looking for training options, exam options, administrator options, or just more information about food safety, the new site will be a better experience for you on desktop and on mobile.
Here is a little guide on how to find exactly what you're looking for. If you have any issues, get lost along the way, or just want to chat, you can give us a call at 800-446-0257, send us an email at Customer.Service@nrfsp.com, or use the new live chat feature on the bottom right of your screen.
Exam Center

This is the main hub for everything training and exam related. There are four main categories:
Prepare for an Exam
Take an Exam
Administer an Exam
Partner with NRFSP
Prepare for an Exam: You can find training materials, local trainers, and state regulations for when you need to get ready for an exam.
Take an Exam: Each program has its own page under this section with all of the relevant information you need to know to prepare for and take that exam.
Administrate an Exam: Administrators have new clear menus for every task they need to complete, including a dedicated page for Administrator Resources, which holds every document, manual, and form you will need.
Partner with NRFSP: Anyone looking for more information about National Registry and its programs can find it under the partner section.
Live Chat

We are using a new tool for live chat that lets you instantly connect with a member of our expert customer service team. When someone is available to chat (Monday through Friday, 9 am to 5 pm Eastern), you will see a little chat bubble with the words "Chat with Us." Click the button to start a live chat. If no representatives are available or it's after hours, you will see the email icon with the words "Contact Us." Click the button to send us a message, and we'll respond as soon as possible.
Online Store – launching December 1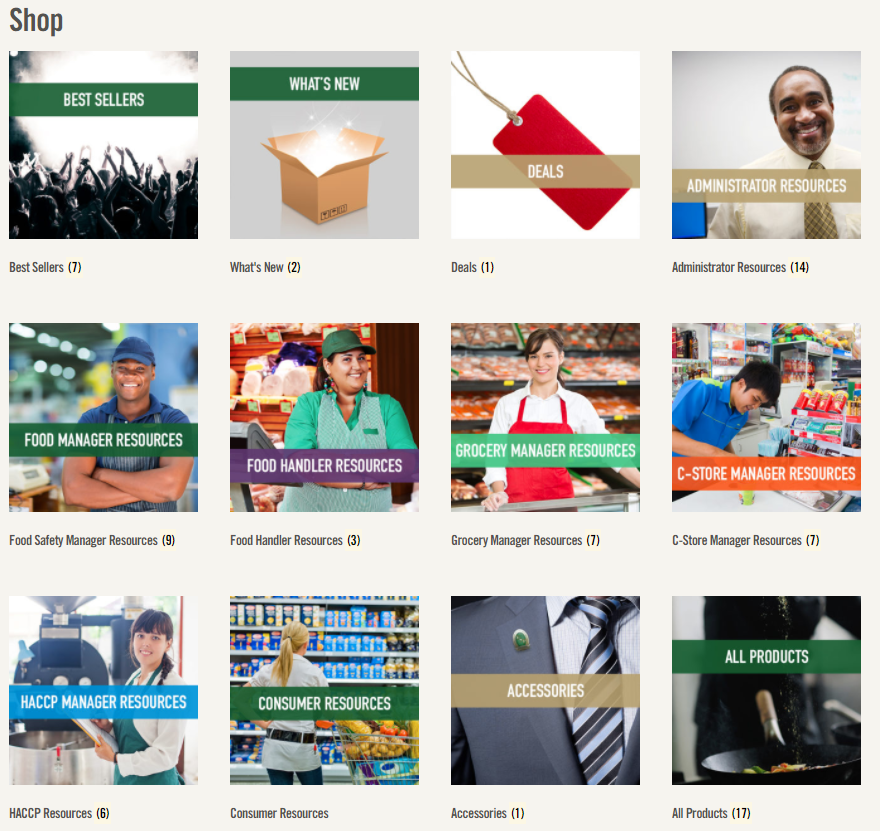 The online store experience has been completely overhauled. All of your favorite products are still available, and we also have several new and exciting options to choose from. It's easier to find the products you want and easier to understand the features available for the products you are viewing. If you have purchased items from us in the past, your account is still active, but you will be required to create a new password. You can do that here.
Administrator Login and Resources
Administrators still log in using the same user name and password to place orders and access results. There are two places you can use to log in:
Administrator Log-In from the main menu
Log-In to Order Exams from the Exam Center
Both of these options take you to the same back-end log-in experience you are used to. Nothing has changed with this site except for the background graphics.
Here is a quick breakdown of your options from the Exam Center:
Log-In to Order Exams: Access the same admin area you are used to
Become a Test Administrator/Proctor: Information for anyone interested in becoming an administrator with National Registry
Approved Food Handler Providers: Everything you need to know to provide the First Principle for Food Handlers certificate program
Online Exam Options: Links and information about all of your online exam options, including Diversys Learning, Pearson VUE, Innovative Exams, and USFoodHandler.com
Administrator Resources: Every document, manual, and form you need to do your job as an administrator
Blog
Get the latest news, articles, and food safety information from National Registry's Food Safety Spot, now integrated directly with NRFSP.com. You can also subscribe to receive email notifications for posts from the site.
Help
Call us: 800-446-0257
Email us: Customer.Service@nrfsp.com
Chat with us: Click the chat button on the bottom right of the screen (M-F, 9-5 ET)