As a convenience store food provider, you're part of one of the hottest trends in the industry.
Young people are coming to you for meals at ever-increasing rates. How much? GasBuddy reports that 43 percent of Americans age 18-29 bought more convenience store meals than they did three years prior.
The FDA discovered that the major difference between restaurants that had an outbreak of food-related illness and those that didn't was the presence of a CFPM, a Certified Food Protection Manager.
That's great news—but those increased food sales come with increased responsibility for your customers' safety.
There was a time when convenience stores had a reputation of being on the unsanitary side—dirty stores where tired employees neglected cleaning duties. That's not something foodservice establishments can get away with, not if they want to avoid sick guests and lawsuits.
As a C-store manager, there are some things you need to enforce, some leads you need to take from restaurant managers and operators. What's their biggest secret?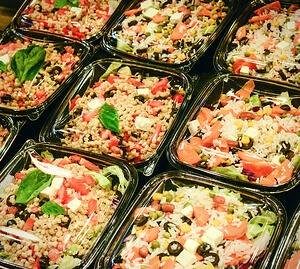 Training.
The FDA discovered that the major difference between restaurants that had an outbreak of food-related illness and those that didn't was the presence of a CFPM, a Certified Food Protection Manager.
As skilled as you may be at managing the c-store, there are important factors you need to know about serving and preparing food, factors you can learn through training and becoming certified with the National Registry of Food Safety Professionals. The good news is that National Registry has developed a certification specifically to meet the needs and challenges of convenience store managers.
And you're not the only one who needs training. Anyone at your store who works with food needs to be trained in how to safely handle it and protect your customers from foodborne illnesses. That's why National Registry has a Food Handler Certificate.
Let's take a look at how this training can make your foodservice stand head and shoulders above the competition and earn you a reputation for being a great place to get a fast meal on-the-go.
Convenience Store Manager Certification
National Registry developed the first food safety certification designed exclusively with you, the convenience store manager, in mind. We know that you face different operational challenges than other foodservice operators. Certification exams and training materials are developed with scenarios and terminology you use and that are relevant to convenience store professionals.
Here's what you need to do to get certified:
Prepare for the exam. National Registry has support material you can pick from including self-study versions of Food Safety Management Principles for Managers. Or—use the training materials of your choice.
Successfully pass the exam. The exam is 80 questions long, available in English or Spanish. Exams can be taken online with a proctor or at Pearson VUE Testing Center.
Once you are certified, the certification is valid for up to five years. Some states and jurisdictions have some specific regulations that you have to follow when it comes to food manager certification. Be sure to check those out.
Sign up to get started here: https://www.nrfsp.com/c-store/
Food Handler Certificate
Signing your employees up for the First Principles certificate program can give you peace of mind that they are handling food safely every time and doing their best to prevent foodborne illness.
The program, available either online or in a classroom setting, provides food handlers with the knowledge and skills they need to safely handle foods for human consumption. After an introduction to food safety, it covers such topics as contamination and cross-contamination, time and temperature control, personal hygiene, cleaning and sanitizing, potentially hazardous foods, time temperature control, and pests.
Need more information about how to get your employees trained? Start here: https://www.nrfsp.com/food-handler/
Being Your Best
Convenience stores are quickly finding their niche in the foodservice industry by providing food on-the-go faster than anyone else. Now is the time to make sure that you are also providing food that is clean and safe so that you earn the confidence of your customers.