If decluttering is one of your New Year's resolutions or you've become a devoted follower of the KonMari method of minimalism, you may be taking a long hard look at your collection of cutting boards in your kitchen. There's the cheap, wood, splintered one from your long-abandoned pursuit to drink fresh coconut water daily. There's a scarred plastic relic your mom donated to you when you first went off to college and there's even a little slate number for laying out fancy cheeses during your weekly book club.
Is that enough? Too many? The right ones? Does it matter if you cut up your lettuce where you dressed your skirt steak? Read on to find out which boards are necessary for safe food prep.
Materials: more than an aesthetic preference.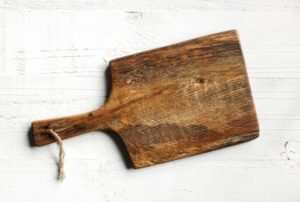 The magic cutting board number is three:
one for cutting meats
one for veggies
one for poultry
Using the same cutting board for everything can cause cross contamination, which is why you want to prep separately.
For material selection, consider the guidelines recommended by the FDA Food Code. After all, if it's good advice for restaurants and foodservice operations, it's good for your home, too. Here's what the Food Code has to say:
Cutting boards and blocks should be made of materials that are durable, corrosion resistant, and nonabsorbent; sufficient in weight and thickness to withstand repeated washing; finished to have a smooth, easily cleanable surface; and resistant to pitting, chipping, crazing, scratching, and scoring.
If choosing wood, look for hard maple or an equivalently hard, close-grained wood.
Finally, cutting boards that are so scratched up and scored that they can no longer be effectively cleaned and sanitized should either be resurfaced or discarded.
Out with the old and in with the necessary.
As stated above, you should replace anything that gets so worn down it could be mistaken for trash. You can use many items beyond their prime without hurting yourself or someone else but with food preparation, the consequences of holding on to a board past its prime can be dangerous. Excessive scarring can trap bacteria and make cleaning and sanitizing impossible. Ditch anything with deep grooves and marks and replace plastic every two to three years—or sooner if deeply scarred.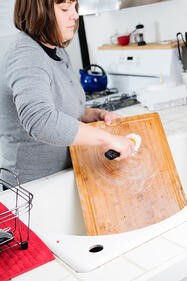 Don't forget the elbow grease.
Wash boards with hot, soapy water after every use, rinse with clear water and air dry or pat with a paper towel. Nonporous acrylic, plastic, and solid wood boards are dishwasher safe but laminated wood may split and crack. Sanitize wood and plastic boards with a solution of 1 tbsp. unscented, liquid chlorine bleach per gallon of water. Flood surfaces with bleach solution and let stand for several minutes. Rinse thoroughly with clear water and dry as above.
What it all boils down to . . .
None of us gets a life manual with a good food safety section; it would be wonderful if we did, but following these simple rules for yourself will keep you safe at home.